Christina Grossi is a spiritual lecturer, teacher, writer and healer.
She lives an authentic life that she shares through texts, autobiography: To Come home,
workshops, retreats all over the world, videos and pod.
She has gone through great pain in her life and teaches the power of forgiveness
to be free and be able to live a happy life.
Christina's courageous, heartfelt and important words
has got thousands to follow her.
My book is here in English "To Come Home"
My way to healing
My spiritual journey has been like a roller coaster filled with joy, yet also filled to the brim with pain, and full of insights. In addition, it has been filled with lies and a search for the truth; edged with betrayal but also with love; a desire to be like everyone else but now with an incredible gratitude for being me; and an eternal search within me for the source that I have desperately searched for outside of me, and which was never possible to find there. To live in my truth fully is to stand in the light, always see the good in people and in myself, and never do any harm.
Standing in my own truth is knowing who I am, gratefully receiving lessons, and humbly learning from them. To forgive, to be whole, to accept, to love. What a journey!
Christina Grossi has worked as a healer- & spiritual coach since 1999. She has a masters degree in psychology and holds courses and retreats all over the world. She has 4 children. She want to raise awareness, inspire and change the world.
My little angel. Spread your wings. Turn your face toward your inner sun. Let the heart mirror your soul. You are one, one with yourself.
Grandmother
Come here, my inner child
Feel my Love
Come into my arms
Here is safe and warm
Feel that you can always come to my innermost room,
And feel safe and loved
In love, in warmth, in calm
Here, you are at home
Here, you are free
– C. Grossi
It's Christmas Eve, and the snow is falling slowly outside the windows. Inside the yellow house, I stand and wait for the elevator, after a walk with the dog. Every time I go to the elevator, I think about what I would do if the ropes in the elevator were to suddenly break loose. What would I do? Could I possibly throw my legs up on either side of the elevator walls? Or would I curl up on the floor so that the impact would be less harsh? I don't know where all of these thoughts come from, but I've always thought way too much—maybe too much for my own good.
When the elevator reaches the eighth floor, I refuse to get off. I'm fourteen years old in this flashback. My regression therapist, Eva, tells me that I have to step out of the elevator. She is feverishly looking through her papers. We are new to these regressions, which is when you mentally go back to an event in your childhood or an event from a past life. You go into a state of hypnosis and the therapist helps guide you back to your old memories. You can get in touch with experiences that you are not always fully conscious of, and come to understand a certain emotional experience or a problem you have. I'm her student this round! If I don't leave the elevator, what will she say? We have gone back to my childhood together several times now, after a course that we attended for a couple of weekends.
I step out of the elevator at last. My heart beats hard as a hammer in my body. I do not want to open the front door. "I know what is waiting inside," I say.
"You have to open it," Eva tells me.
I open the door gently. The first thing I meet when I come in is the coat rack in the hall; it's full of jackets. On the floor, there is a blue carpet—my mother's favorite color, of course—that leads all the way into the kitchen. It is full of gravel splashes and wet shoe prints from the snow. The entire apartment is decorated in 70s style. In the kitchen sits my mother, heavily intoxicated with alcohol in the middle of the day.
My mother is a woman of thirty-five years of age, but she looks much older. She is tall and slender. She has always been thin, but after several years of alcohol abuse, she now has a large, bloated belly. She has light, short hair that she combs back, but with a little height at the back.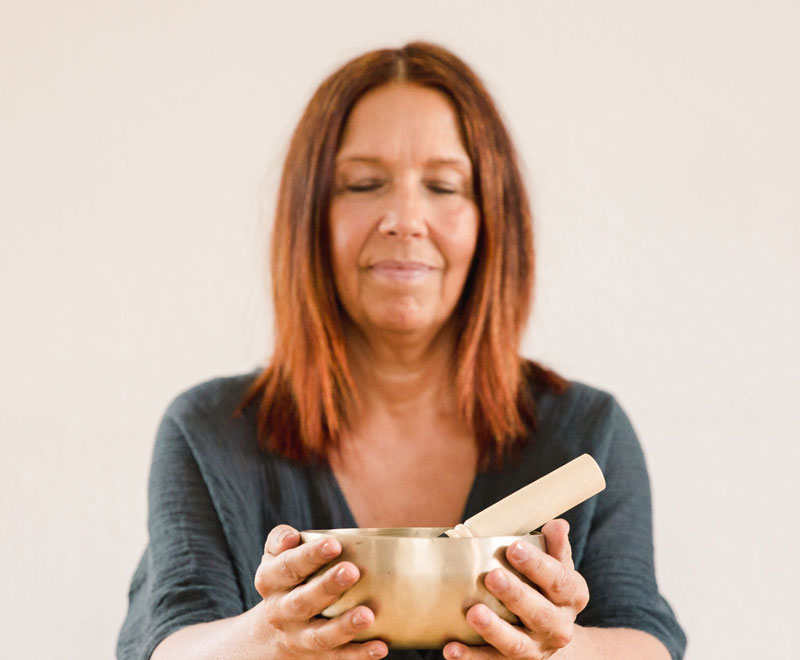 For many years I have devoted myself to teaching all I can about love, healing and how to live your dream life.
Healing – Spirituality – Meditation – Yoga
The road there has been very long. I have attended lots of lectures but also attended many teachers in transformation and yoga.
I have gone through countless audio and video clips and have trained in spirituality and healing. I also have a master's degree in psychology and analyzed and introspected myself. 
With all this knowledge that I have accumulated over the years also followed an incredible joy, love and quality of life that enabled me to help and understand others.
I then discovered that this is MY unique talent, which I have now chosen to share with you and the rest of the world.
Follow my English Youtube channel